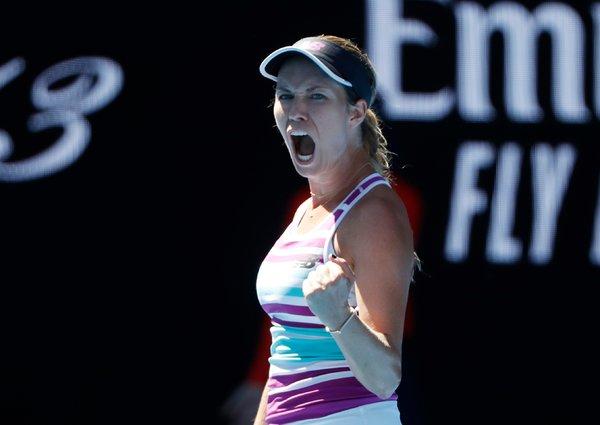 Australian Open Update:
–Dan-YELL! Collins engineers a stunning reversal of fortune, as she has her way in 3 with Pavlyuchenkova. This relative newcomer is beyond competitive, bordering on psychotically intense, and she rolled over her more experienced adversary with a blizzard of blistering backhands, fearsome forehands, rocket serves and a ridiculous intimidation factor that she flaunts with furrowed brow and angry footsteps heard throughout the arena. If and when she faces Serena, this will be quite a spectacle to behold. The tennis is spectacular in its naked aggression, but it is not recommended for those with ulcers or mild constitutions (have some Rolaids within reach). And the only thing shorter than her temper appears to be her skirt. Just a wild guess that her sign is Leo.
— Karolina wiped the court of any trace of Garbine, who went away faster than you can say blueberry pancakes … sight unseen
— The Mother of all tennis players, little sis Williams thunders to another high volume victory, but not without being pushed by supposed big dog … the rather pint-sized Simona Halep. For those looking for a bit of competitive drama in the final rounds of this tournament, hopefully the remaining contenders were going to school on this match; what seems apparent is that Serena is definitely not moving as well as during her last title run, and her court coverage could well be an Achilles heel (so long as a way is found to somehow withstand the brute power of her serve and the baseline assortment of bangers and bash).
— So what else is new? In the case of Novak, absolutely nothing, as he wears another superbly conditioned athlete down to the proverbial nub with a grueling, if not gaudy, display of superhuman conditioning
— A very saucy Tsitsi gets past batttler Bautista in a 4 setter that certainly had loads of flavor.
— Kei shows true Far Eastern grit by busting his butt in a real tight squeeze with Carreno Busta.
— Still flying under the radar, Pouille doesn't duck the challenge in killing off Borna