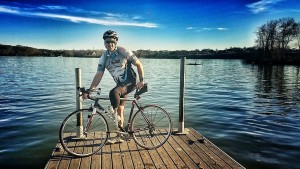 ChabDog interviewed Travis Mace of Hendersonville, TN to learn more about his experience as a cyclist and runner with Amputee Blade Runners:
ChabDog: Hello Travis, thanks very much for talking with ChabDog Sports Blog™ about your affiliation with Amputee Blade Runners. How long have you been riding with this group, and before that how long have you been a cyclist? How did you get started, and what is it about cycling that you enjoy most? Any favorite riding experiences you'd like to tell us briefly about?
Travis: I've been involved with the Amputee Blade Runners for almost 2 years. I got affiliated with them after meeting a cyclist named Ron Fitzsimmons. He noticed I wasn't clipped in with cycling shoes when he saw me riding one day, and after telling him I didn't have a good enough fit with my prosthetic leg, he said his son was an equipment designer and could make me a cycling leg. He had me meet with the designer/fabricator and apply for their grant (to help make the equipment affordable), and I was approved in 4 days. Then, his son Aaron went to great lengths to measure and fit me until I had the perfect fitting. After that, he made a special pylon that has a clip for the pedal on it and replaces my prosthetic foot when riding. He also made me a running leg and gave me a shoe sponsorship.
By way of background, I've been into cycling most of my life, but only got interested in road bikes after I lost my leg in an accident.  To sum up why I like cycling, it is the ultimate release for me; a release from care and worry and from the everyday grind. It takes me all over the state of Tennessee, and the nearby region. In fact, some of my rides cover 3 counties, and I've left the state on a couple of occasions.
ChabDog: Tell us more about what your training regimen is like – how many days per week do you ride, how far do you go, and how does this compare with other types of cardio workouts such as running, ellipticals, stationary bikes? Any special challenges for you due to where you live (e.g. the unpredictable weather in Tennessee)? And maybe you could give our readers a sense for how you prepare for your rides (what things to you have to bring along when you go on your rides)?
Travis: I typically train about 5 days a week, with at least 2 rides that are about 3 hours long, and during the spring, summer, and fall I will get in a 50 to 80 mile training ride almost every week. I also run, but don't do this as much as I ride because it's easier on my stump (where my leg is amputated). Yes, Tennessee can have some challenging weather, to say the least, so I do some of my work on an indoor bike that is direct drive, as well as doing weight training and spin classes. In fact, I think I train harder than I need to because I get such an endorphin rush from the extreme exercise, and afterwards like to reward myself for the effort expended by indulging in my favorite meal … eating a good steak. In terms of preparation, I make sure I'm getting the appropriate nutritional intake, and I generally pack some energy bars and water for my rides. On the longer rides, I will stop along the way at stores for additional food and drink, as necessary.
ChabDog: What kind of events do you compete in? Are you always competing as part of a team, and if so, how many other team members are typically involved? Is it structured like a relay race? Is prize money involved? Who are you racing against?
Travis: The cycling events are called "Grand Fondos" and they are 62 miles long (which is also known as a "metric century"). This is generally run as a very well organized event, with roads blocked off and numerous rest stops along the course, with water, Gatorade, bananas, etc. Since we are all amateurs, there is no prize money. There are between 200 and 600 riders at any particular event, with a mixture of some organized teams and individuals. Just to give you an example, one pretty major event called is sponsored by Nissan and usually has over 1000 participants.
ChabDog: Tell us a bit more about Amputee Blade Runners (ABR). Is this a national organization with clubs or chapters across the US? Any idea how many members we are talking about? Have you met a lot of other cyclists and athletes through this group? What is involved with the sponsorship relationship; more specifically, what exactly do they pay for?
Travis: I'm not sure how many people we have in the group nationally. We were invited to participate in an event called the Ragnar Relay that was a relay race run from Chattanooga to Nashville (about 196 miles), and some of our racers/members were from Arkansas and Mississippi. Another member of the group is younger than most – he's now attending a local high school –, and he also plays quarterback for his high school football team. We have about 2 or 3 team members here in Nashville, and I'm the only cyclist on our local team. Under my sponsorship arrangement, ABR pays for anything involved with my prosthetic leg, and it also includes a related shoe sponsorship with Fleet Feet. Also, I receive free entry into most cycling and running events held across the US.
ChabDog: What are your goals going forward? Are there individual time goals that you have and/or national or international competitions that you are looking to participate in? What about triathlons?
Travis: My goals are to ride/run longer and faster every year. I want to run in an ultra-marathon (50 miles), and would like to compete in some stage races that cover several days and several hundred miles. Some of the guys I ride with have tried to encourage me to try out for the Paralympics, but I'm not sure I'm willing to make all the necessary sacrifices. But I do want to keep pushing the envelope because I'm not willing to let age or lack of lower left leg hold me back. Aaron Fitzsimmons' (he runs the ABRs) belief is that we amputees can do anything a normal person can do and maybe sometimes even better. I share that belief because when I ride with local cycling clubs, I'm usually the fastest guy in the pack. I work very hard at staying competitive even though we are not talking about the Pro Peloton/pro cycling … it's just a bunch of weekend warriors, but I'll always strive to be the best.  I also want my cycling and racing to serve as an example, and as encouragement and inspiration, for anyone who losses a limb, by showing them that they can live a fulfilling life and achieve their goal, without feeling limited or held back by their circumstances or previous injuries.
Travis — Thanks very much for sharing your experience with the ChabDog readers, and best of luck with your road racing going forward.