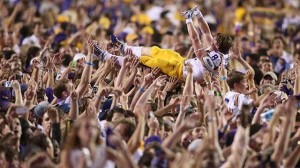 ChabDog sits down for a conversation with Trey Quinn, pictured above surfing with the crowd after LSU's exciting 10-7 win over highly ranked Ole Miss.  Quinn had an amazing career as wide out in high school, setting the national career record for receiving yards with 6,566, which eclipsed the previous national career receiving yards record by more than 200 yards.  He also finished as the career leader for Louisiana state high school football players with 357 receptions.  As discussed below, even considering his impressive talent and previous accomplishments, Quinn approaches his play as a member of the LSU Tigers with a unique focus and dedication that seems to set him apart from the crowd.
ChabDog: Has playing football for the powerhouse LSU Tigers been your greatest challenge? Talk a little about what it's like going from high school competition into the fire of the SEC. Playing in Death Valley before 100,000 plus fans! What's that like?
Trey: Playing college football, and in the SEC in particular,  has been very challenging.  Everybody is big, strong, and fast.  Since you cannot just run by people in the SEC, technique is very important.  It was a big transition right out of high school,  but I practice against a very talented defense that is full of first round NFL picks every day,  and that helps me and my teammates prepare.  
ChabDog:  You've had a great start to your career, now with 16 catches and 2nd most on the team to date. Anything in particular that you attribute to this success? Hard work, good coaching, new training habits? Talk about how you focus your preparations during the week to help you succeed on Saturday.
Trey: I feel like I am coached by two of the best in the business in Coach Henry (my WR coach) and Coach Cameron (offensive coordinator).   Our receiver group as a unit is very talented, and we compete every day!   If I slack off even for a little bit,  there is somebody wanting to take my spot, so I am motivated to do my very best and that is what I try to do every practice and game.  
ChabDog:  Any other teams really impress you in SEC? Talk a little about your impressions of the competition. Who is LSU's biggest rival?
Trey:  I think any team in the SEC is a very strong opponent.  The SEC West — in particular this year– has been very competitive.  Currently, I think four of the top five ranked teams in the NCAA are from the SEC West.   I am honored to play and compete against some of the best athletes week in and week out.  I know that I have to prepare myself to the best of my ability each and every day just to have a chance at success against some very quality opponents on our schedule.  
ChabDog:  Is your life as a football player completely different than that for most of your non-football player friends? Do you have any free time? Saturday nights on campus must be great … maybe discuss a little what kind of events occur on campus on home game weekends.
Trey:  My schedule is very busy this fall between school and football, so there is really not a lot of free time.   I pretty much hang out with my girlfriend after games.  My family is always waiting for me outside of the locker room after each game, as well as friends and fans, and it is important for me to give back as much as I can to those that support not only myself but my teammates. 
ChabDog:  Trey, thanks very much for talking with ChabDog.  Sounds like you have a great football future in front of you at LSU, and best of luck during the rest of the season.