https://www.facebook.com/ChabDog/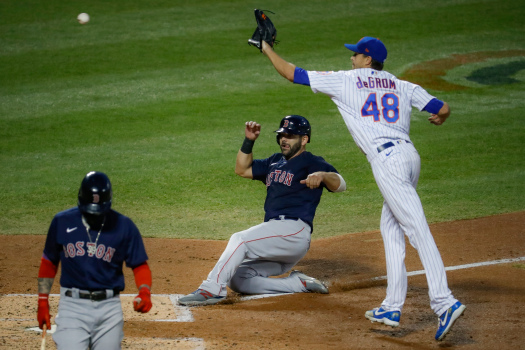 This by no means makes up for Game 6, 1986, but it does help me sleep like a baby tonight. Red Sox rally with some religious fervor, led by a Fisk-like fist pump from their zealous catcher, Christian. Meanwhile, the Met fortunes continue to yo yo with the spotty performance of their psychotic pen. Ok, we can temporarily life the governor's sequester. #RedSox #Mets
Get a recap of the Boston Red Sox vs. New York Mets baseball game.
Bell, Polanco and Reynolds had better buck up, or this will be a very long, abbreviated season for the Bucs. #Brewers #Pirates
Reds realize that Kyle Hendricks' stuff isn't all "that", and proceed to beat the skinny starter's meaty offerings Senzel-less. Win No. 2 for a happy Sonny Gray. #Cubs #Reds
CO continues to choke the life out of Oakland, as German shepherds them through six strong innings. #Rockies #Athletics
Memo to the rest of the league: Rich Hill is not over the hill. Cards get shuffled and scuttled by Minny's new crafty lefty, and Twins look quite comfy in their cool baby blues. #Cardinals #Twins
Yes.. Baltimore is so bad they can have their game postponed due to whatever,,, and can still manage to lose that same day. #Yankees #Orioles
Let's not even try to understand how the Natties can win a road game in their own park. Just know that Scherzer's pitches were dancing around the strike zone like Fred Astaire, long enough for offense to finally wake up in the "top" of the 10th. Go figure.