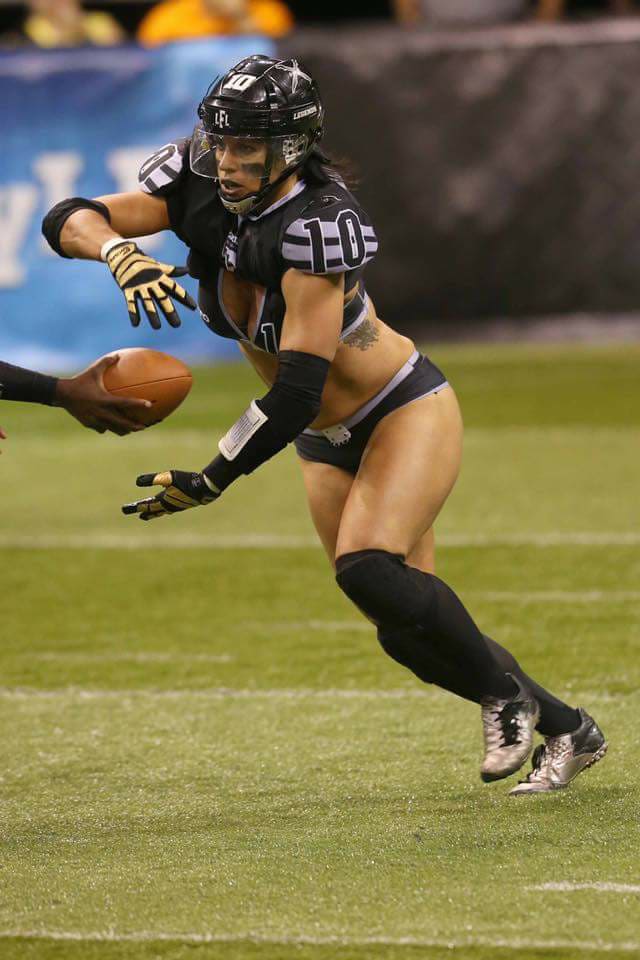 LFL Update:
LA Temptation Ruthlessly Steamroll Austin Acoustic —
The LA Temptation showed by why they must be considered serious contenders for this season's LFL title, with an impressive 56-28 shellacking of the Austin Acoustic at Cedar Park in Austin. The tone was set early on when Kiara Takairangi ran wild with an 11-yard TD fumble recovery. After Atlanta countered with a TD pass, LA came right back with a TD pass from Kiara Patterson to Sherri Awagah.
Late in the second quarter, LA stretched its lead when QB Ashley Salerno took control, burning through the Austin defense on the ground, and ultimately taking the ball into the end zone on a 3rd TD run. Throughout the first half, and for the whole game for that matter, LA stopped Austin dead in its tracks on the ground, and the first half ended with the Temptation in control, 21 to 6.
After halftime, Salerno resumed her efficient play, mixing passes to Awagah, Cynthia Schmidt and running back Carmen Bourseau, with effective running of her own, capped off by a 10 yard scoring run that made the score 28-6. On their next drive, the Acoustic did respond, with QB Teshay Winfrey finding Brenda Lyn for the TD. However, LA quickly and forcefully countered, with some big runs by battering ram Bourseau and a nice 9-yard TD from Salerno to Schmidt. The exclamation point on LA's body blow to the Austin midsection was punctuated by Tiyuan Anderson's demoralizing sack/safety of Teshay.
Early in the 4th quarter, LA crushed all Acoustic hopes when the Salerno-Bourseau combination moved through the Austin ground defense like a knife through butter. It was 43-14 faster than you could say blueberry pancakes, and for the remainder of the game the teams traded two more touchdowns apiece.
What this game shows is that LA is a formidable, physical team, with a noticeable chip on its shoulder, and the results are some great football. Austin showed some weapons, but what success they had through the air was obscured and lost in the thorough beating they took at the line of scrimmage, where LA had their way all game. Bourseau finished with 101 yards on 16 carries, and Salerno had what may be the finest game of her career, with 54 yards on the ground (on only 8 carries) and threw for 69 yards and 2 TDs. While the Temptation did most of their serious damage on the ground, the passing game was effective as well, with Cynthia Schmidt, Malissa Miles and Awagah all making some big plays.
On defense, it was a coming out party for both Naja Christmas and Tiyauna Anderson. Christmas was a terror, making 2 unassisted tackles, being in on 3 more and squashing a couple of Austin drives with sacks heard through the stadium. Anderson was almost as impressive, making 3 unassisted tackles, in addition to her 3rd quarter sack and safety.
Commented Coach Tui after the game, "Other than some problems we had defending the pass, I thought we executed well on both sides of the ball, and I'm really encouraged by where we are right now. I also want to give Austin a lot of credit for making us work for everything we got out there. What's clear to me is that this team has worked really hard to be in the position it's now in, and we're looking forward to coming home to play Pittsburgh."