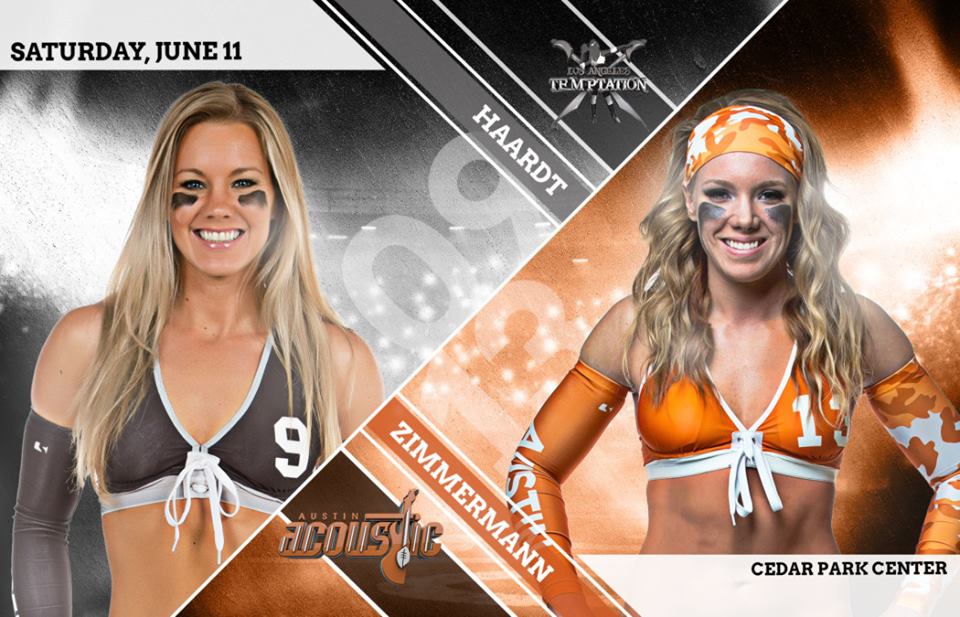 Temptation Travel to Austin for Critical Showdown With the Acoustics —
The LA Temptation square off this Saturday night against their Western Conference rivals, the Austin Acoustic, at Cedar Park Center in Austin, TX.  This is a particularly critical game for both teams, as the loser will likely find itself on the outside looking in when the LFL playoffs begin in August.
The situation may be a bit more dire for Austin, whose record stands at 1-2. The Temptation are in a better situation, at 1-1, but they know that their best hope for controlling their own destiny is to come away with a big win. And Coach Tui of the Temptation has no doubts that his team will indeed be ready. "We've had 7-8 hard practices since beating Dallas in early May, and I think our focus on both defense and offense is much sharper. There's no question in my mind we'll be ready when they blow the whistle this weekend."
It goes without saying that LA does not want to endure the same first half struggles that plagued the team in its last game against Dallas. Tui is encouraged by the fact that the team is now very healthy, and he's confident that the QB rotation of Jane Caldwell and Tiara Patterson will be effectively lead the team down the field.  Look for LA to establish its powerful running game early on against the relatively undersized Austin defense, but also don't be surprised to see some long passes aired out to Cynthia Schmidt and Delaney Hall, mixed in with throws over the middle to scary Sherri Awagah.
As for the Temptation's defense, expect a continuation of the strong play that was seen in the second half of the Dallas game, with one change being Janai McElroy lining up as a second safety, next to lock-down defender Ogom Chijindu.
However, Austin does have some weapons that will pose a challenge for LA, including scrambling quarterback Teshay Winfrey, who has also had some success this season through the air, as well as elusive Michelle Marshall at running back and Leilanni Lopez (8 receptions) at wide receiver.  On this note, Tui is quick to observe, "After playing Dallas, we are well aware how dangerous an expansion squad can be, so make no mistake about it, we're bringing our A game on the road with us this Saturday. We need all the points, and stops, we can get."
Look for an entertaining game this Saturday in the Lone Star State!
Brandon Chabner,
LFL beat writer for the LA Temptation