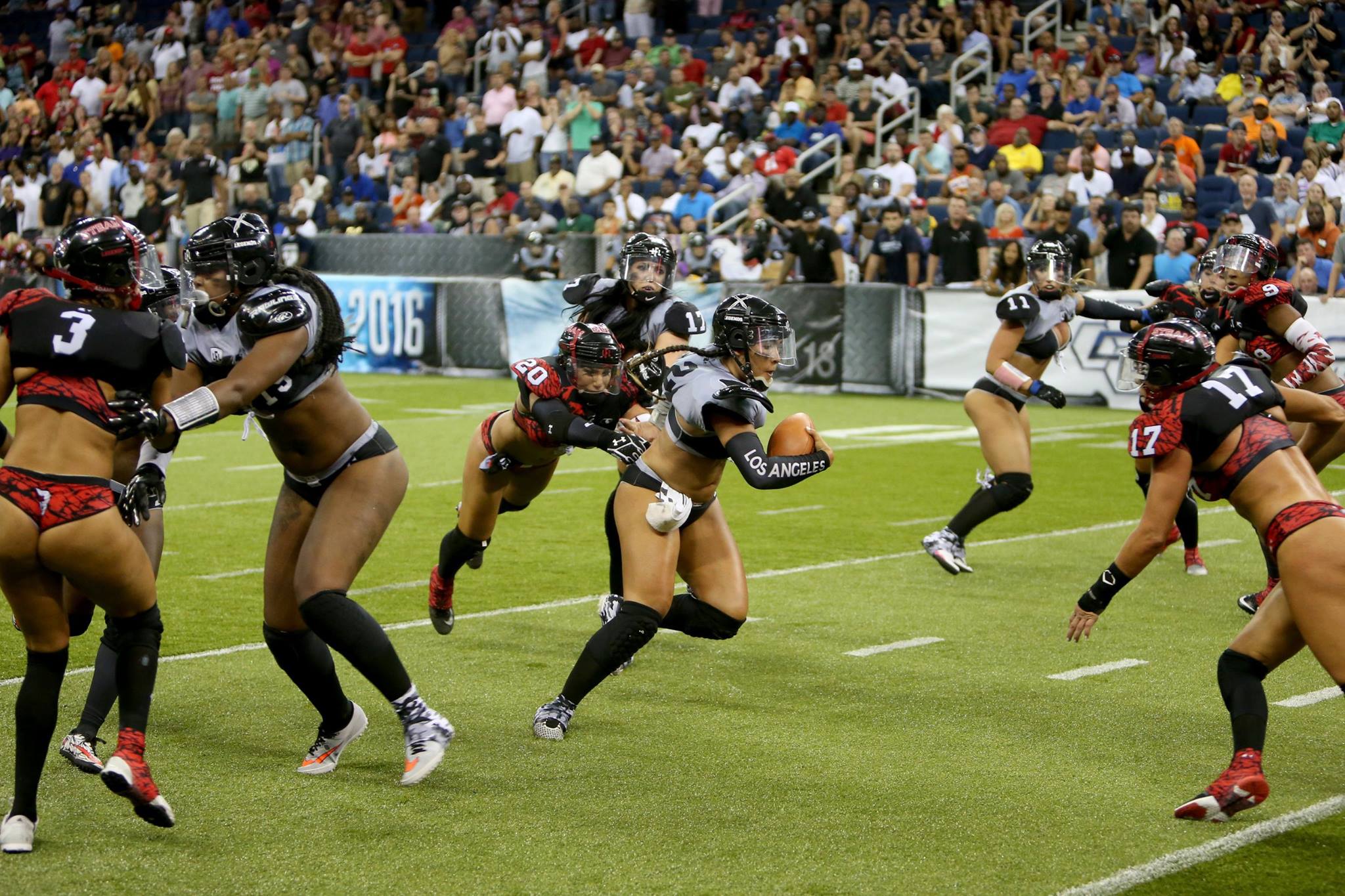 LFL Update — Temptation Grind Out a Tough 33-26 Win Over Steam, But Need Some Unlikely Help to Keep Playing in Post-Season
After stumbling in Game 1 against Seattle, the LA Temptation have definitely righted their ship and seem poised for a series run at the Legends Cup; however, they'll need to do some serious praying if they hope to keep playing. Despite a 3-1 record, they'll be watching the playoff festivities from home, unless Omaha pulls a major … major … upset against Dallas.
Coach Tui can certainly be proud of his silver and black warriors after their huge road victory in Atlanta on Saturday, July 9. LA kept the pressure on Atlanta's defense all game, piling up 167 yards on 31 carries, and with standout performances by both QB Jayne Caldwell (3 TDS, and 87 yards on 13 carries) and Jas Johnson (12 carries/71 yards). The defense did have its troubles stopping Atlanta's effective attack, which featured a 3 TD passing performance from Dakota Hughes, along with some effective running from Jessi Locklear. However, in the end it was Delaney Hall's pick six that took the air out of the Steam and its last gasp for a winning score.
Other notable performances for the Temptation included 3 receptions by Kiara Patterson, and some aggressive tackling by Lily Granston (6), Monique Gaxiola (5) and Suzanne Mapes (5). On the Atlanta side of the ball, the receiver corps were led by Lauran Ziegler and Adrian Purnell, with 5 and 4 receptions, respectively, and the defense was led by Dina Wojowski, who either made or assisted on an off-the-charts 11 tackles, and had a sack as well.
Commented Coach Tui, "We did a great job on offense, controlling the clock, moving the ball. and of course, getting the necessary points. You can really see Jayne's development, as a general leading our troops down the field, and I really like her as a dual threat now — both as a runner and a passer. Our defense also had its share of stops, including that huge INT which sealed the deal. I am just very frustrated that we may well be left out of the race for the Legends Cup, given how far we've come. With all due respect to the other playoff teams, my sincere belief is that when you have this kind of abbreviated regular season, the only sensible approach is to have the squads with the four best records move on to the post-season … period. In any event, I do salute this team, and see this as a great building block for next year, regardless of what Dallas does in its next game.
Brandon Chabner, LFL360.com beat reporter for the LA Temptation
www.ChabDog.com