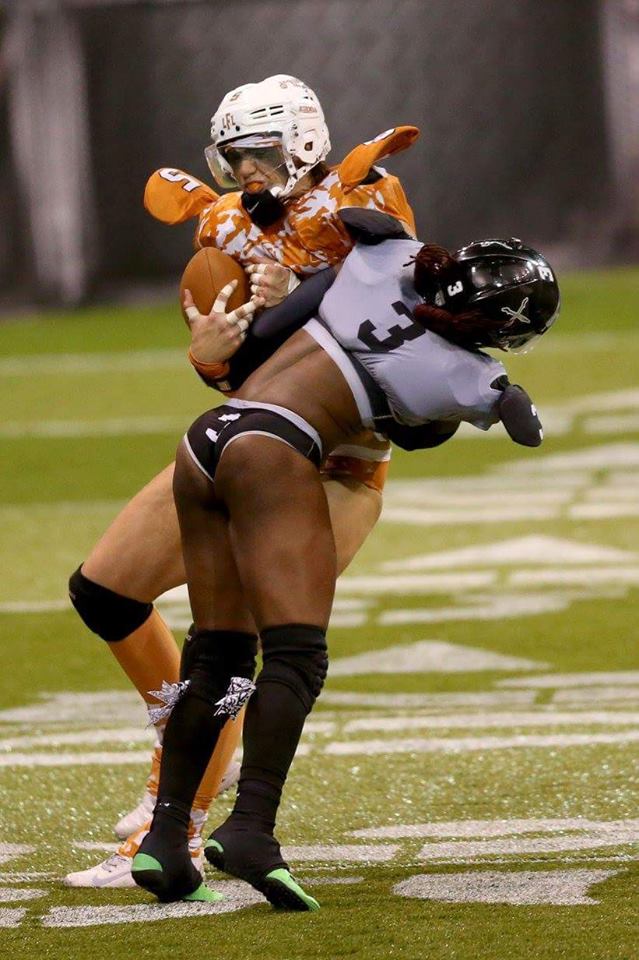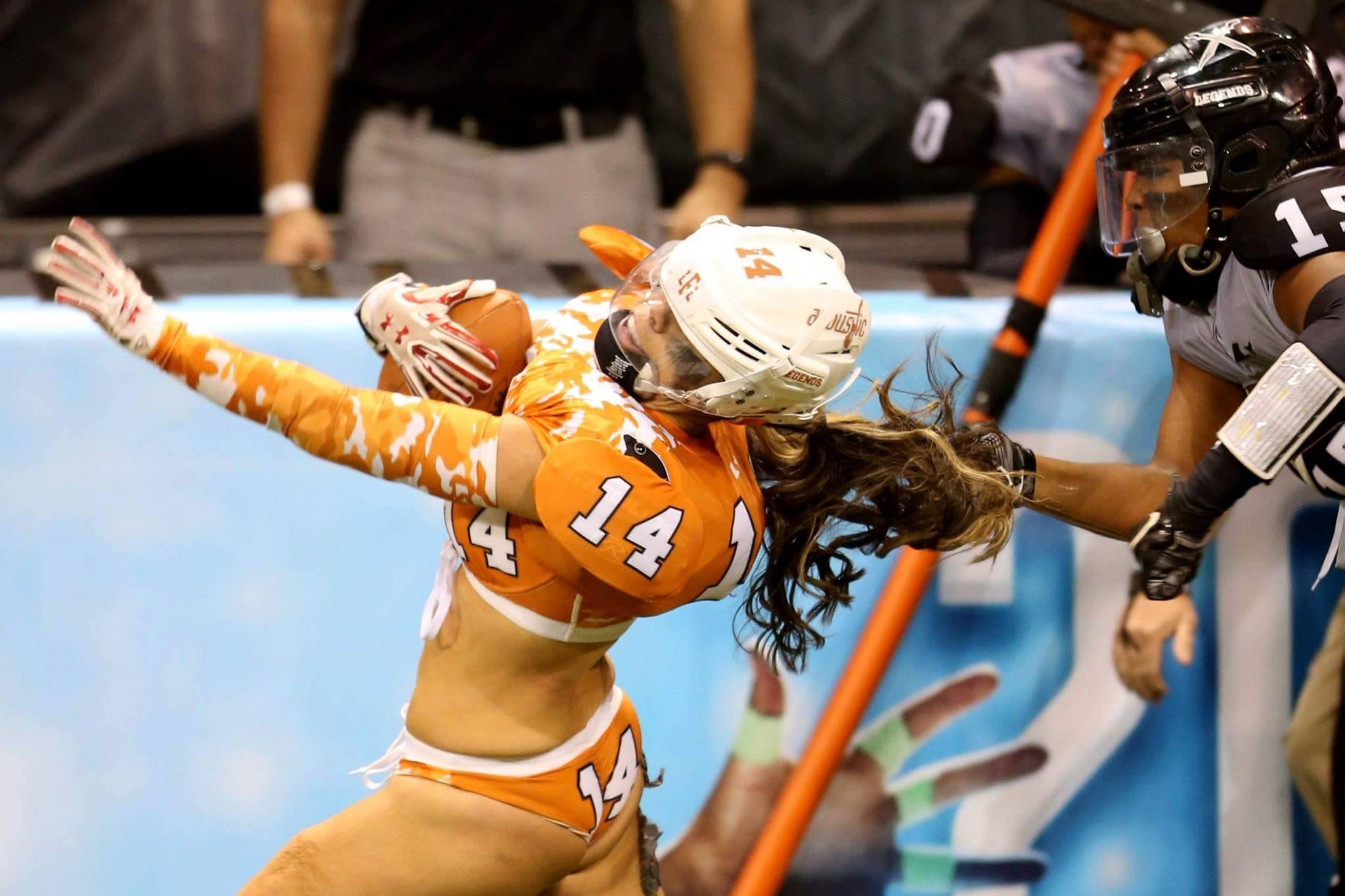 LFL Update: Temptation Plow Through Acoustic for 2nd Win of the Season
This past Saturday, the LA Temptation took an important step toward securing both their position in the upcoming LFL playoffs and their status as major contender for the LFL title with a convincing 49-32 road victory over the Austin Acoustic.  This game was indeed a testament to the powerful and efficient running game of the Temptation, which piled up an impressive 194 yard in only 29 attempts (over 6 yards per carry), but also reflects an improving passing game (2 TD passes) and quarterback rotation (good results from both Jayne Caldwell and Kiara Patterson).  On the other side of the ball, the defense stopped Austin when it needed to, and saw standout performances from both Lily Granston and Janai McElroy (8 and 7 tackles, respectively); however, there is definitely room for improvement if the team hopes to compete successfully in the upper echelon of the LFL.
In a nearly flawless first half, LA touchdowns on its first four possessions, and failing to score on a fifth possession only because the half ran out on them at the Acoustic two yard line.   Austin had no answer for Nas Johnson on the ground, and Caldwell was also an effective dual threat at QB, running for 2 TDs and connecting with Cynthia Schmidt for another.  To its credit, the Acoustic kept the game interesting, scoring three times and staying within 8 at halftime (28-20), largely on the strength of Teshay Winfrey's arm and legs (a rushing TD and a TD pass), and consistent gains on the ground by Michelle Marshall.
Things remained intensely competitive during the 3rd quarter, with Austin's Selena Fudge breaking off a nice 20 yard return to start the half, and Winfrey running 10 yards for a score that cut LA's lead to 28-26.  However, Coach Tui changed the momentum very quickly by inserting Kiara Patterson at quarterback; Patterson responded with yet another long bomb scoring completion to wide out Schmidt.    The teams proceeded to trade defensive stops, until Winfrey went back to work on a short TD drive, culminating in a 1 yard throw to Leilanni Lopez.
Early in the 4th quarter, Patterson went back to work, completing a 9 yard pass to Megan Hanson and gaining 26 yards on QB keepers, which produced a TD that gave LA more breathing room at 42-32.  It was then that perhaps the key defensive play of the game occurred, with Ogom Chijindu coming up with a critical interception to stop Austin dead in its tracks in LA territory.  After another Temptation pickoff by Suzanne Mapes and Caldwell TD run, LA had an insurmountable 49-32 victory.
Coach Tui was very pleased with his team's performance on offense, commenting "We showed poise and executed well on both sides of the ball.  I loved the job we did on offense across the board, as our line opened up great holes for Nas, Jayne and Kiara, and we were also able to move the ball through the air.  On defense, we came up with the big plays when we had to, particularly with those two huge 4th quarter interceptions by Ogom and Suzanne.  That being said, we'll need to execute better defensively to beat Atlanta, and in the bigger picture, if we intend to have any hopes of making it to the Legends Cup."
LA now has a few weeks off before its regular season finale in Atlanta, which will be pivotal in determining positioning for the LFL playoffs.  Congratulations to the Temptation on another fine effort.
Brandon Chabner/LFL360.com beat reporter for LA Temptation and ChabDog Sports Blog