Prior to Chabdog Sports going full blog mode (literally a couple of weeks ago), and the show being trimmed down to an hour, I used to discuss on the show our previous NASCAR race, or upcoming NASCAR race, and our own Fantasy NASCAR Pick'em game that I came up with to make the segment fun and competitive (just as we do with our NFL picks every week). With that, let me break down our exclusive Chabdog Sports NASCAR fantasy game.
Every week the Chabdog Sports Team makes on-air picks on the show for the upcoming NASCAR race and earns points based on the following criteria:
: Anyone who picks the winning driver gets 3 points.
: Anyone who picks the 2nd place driver gets 2 points.
: Anyone who picks the 3rd place driver gets 1 point.
Lastly, if no one picks a 1st, 2nd, or 3rd place driver then 1 point is awarded to the picked driver that is closest to the podium. Therefore, in our fantasy game, someone from the team always walks away with a point.
Sometimes our co-hosts are not available to make a pick, so we default our "chalk" pick to the pole position driver using the official line-up from NASCAR prior to the start of the race.
One last thing, when we finally get down to the Final Four Championship Race we end up making two picks for that race.  The first pick is, "Who will win the Final Four and be our Champion?", which is a do-or-die pick that is worth 4 points.  The second pick is, "Who will actually win the race?", which is scored exactly like any other race. So we can potentially win up to 7 points in the last race of the season.  Some Co-hosts pick two different drivers here, and others go all in with one Final Four driver (win the season & the race).
To date, our co-host Dorothy is leading our group with 30 points and is the heavy favorite to ultimately win our fantasy game this year. If you look at today's Bristol race (September 16, 2023) you'll notice that everyone has Christopher Bell because it's a Saturday race, our show is on Sunday, and I gave everyone (including myself) the "chalk" based on pole position (Christopher Bell).  Fortunately for us, he came in 3rd place so everyone gets a point.  However, had we all picked Ryan Newman who came in 36th place, we'd all still get a point since no one else had a 1st, 2nd, or 3rd place pick, and Ryan Newman is the closest driver to the podium amongst the Chabdog Sports Team, even though he's in last place.
Below is our current NASCAR Matrix that I maintain for the show. Here you can see how we've scored in each race, and the drivers each of us picked.  Aaron didn't join our team until July so he had to start with a slight disadvantage. In the future, we will award any new member of the team with all the "chalk" points rather than starting at zero.  However, Aaron has done a commendable job catching up to the rest of us in the short time he has been with us (except for Dorothy who has lapped us all).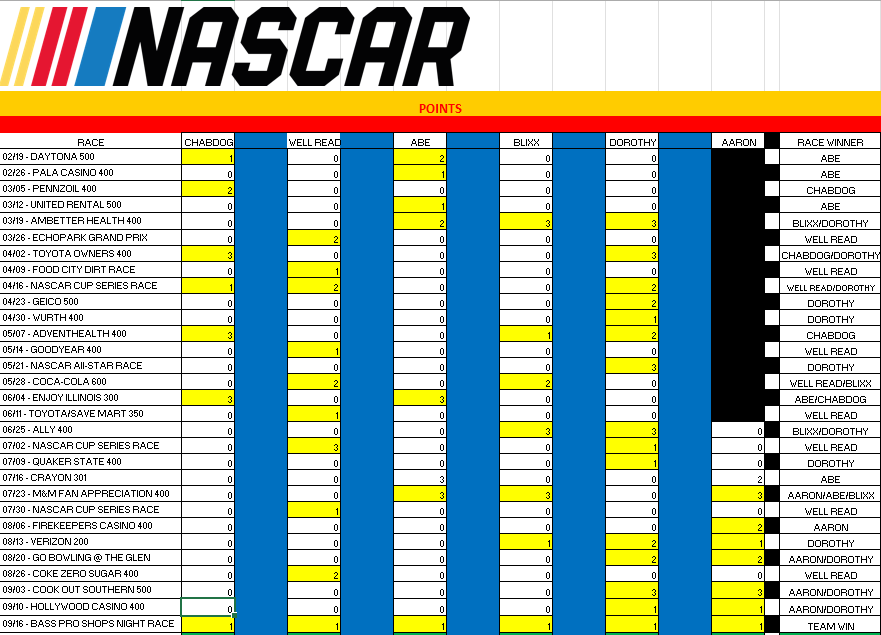 Final Thoughts
My NASCAR game is really cool and fun.  Yes, there's a lot of bias here because I came up with it, however, my co-hosts really have fun playing this little NASCAR game so if you have a group of friends who love NASCAR and want to make it competitive and fun, maybe this game will work for you like it did for us. Try it out and comment below if you find this game fun and cool, or have any questions.
| @darthvaber99