Yeeeeeeeeehaw!  We find ourselves at the Texas Motor Speedway in Fort Worth, Texas this Sunday! Look at this place! It even has its own dedicated dirt track and "Lil' Texas Motor Speedway" track, proving once again, that everything just goes BIG in Texas.   
Source: tms-facility-diagram.jpg (texasmotorspeedway.com)
Sunday's race will be a 267-lapper, 400-mile race, on a 1.5-mile oval speedway with the lineup already set in place with Bubba Wallace taking the poll position.  The top 10 drivers of the lineup are shown below who will battle it out starting at 12:30 p.m. (PT) / 3:30 p.m. (ET).
Source: AutoTrader EchoPark Automotive 400 | Official Site Of NASCAR
In addition to watching a great race, this is also a playoff race with 12 drivers competing to make the final 8 scheduled for October 15 at the Las Vegas Motor Speedway. The good news is that the 4 remaining drivers in the bubble have this race, Talladega (Oct 1), and Charlotte (Oct 9) to win a race (clinch a spot) or acquire enough points to make the final 8 spots. As such, we'll have 12 drivers fighting it out (extra hard) in Texas to win the race.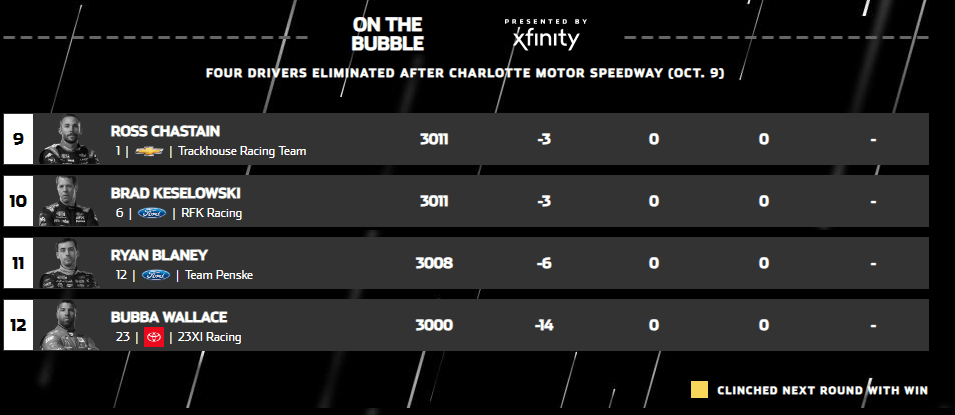 Source: 2023 NASCAR Cup Series Playoffs | Official Site Of NASCAR
Every week the Chabdog Sports Team makes on-air picks on the show for the upcoming NASCAR race and earns points based on the following criteria:
: Anyone who picks the winning driver gets 3 points.
: Anyone who picks the 2nd place driver gets 2 points.
: Anyone who picks the 3rd place driver gets 1 point.
Lastly, if no one picks a 1st, 2nd, or 3rd place driver then 1 point is awarded to the picked driver that is closest to the podium. Therefore, in our fantasy game, someone from the team always walks away with a point.
This week's "chalk pick" is Bubba Wallace
ABE's PICK: I'm picking Kyle Busch since he has won more and has been in the top five than any other active driver (4 wins & 14 top-fives) here @ Texas Motor Speedway.  He's currently sitting in the 7th spot in the lineup and the 6th spot in the playoff standings.  Right now I need to get my pick in the top 3 so that I can gain some points and continue to secure the second spot in our exclusive Chabdog Pick'em Game!  So I'm putting all my cookies in with someone who has the most experience getting to the top 5 at this race course and is currently in the playoff hunt. However, let me hear in the comments who your podium winner is for this race. With that, LET'S GET READY TO NAAAAAAAAAAAAAAAASCAR!
| @darthvaber99