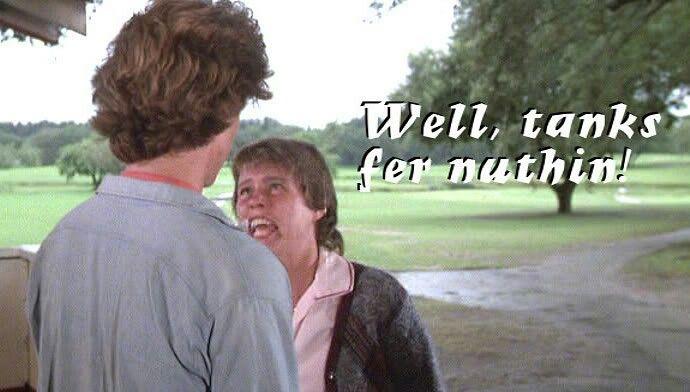 Brian Keller is definitely upping his game with these games… mostly brain teasers or slightly up for grabs… well in words of Maggie from Caddyshack… "Tanks for Nuttin"
1-LIONS @ PACKERS — Lions are not afraid of the frozen Tundra anymore, particularly when it isn't frozen. LIONS!!!!
2. JAGS/FALCONS AT WEMBLY — Tea time it is not for Trevor. FALCONS!!!!
3-10 AM DOLPHINS @ BILLS — I just don't think Miami is ready to lose. Yeah the Bills have some momentum, but they still aren't world beaters. FINS!!!
4-1:25 PM PATRIOTS @ COWBOYS — Mack Davis might be able to win this game, but Mack Jones can't. As much as I hate doing this, it's DALLAS….
5-SNF CHIEFS @ JETS — Finally a total lay up…. CHIEFS, OF COURSE.
6- SEAHAWKS @ GIANTS — Could be time for the Seahawks to lay another egg, but the Giants don't have a Giant appetite for winning. SEAHAWKS.